中华人民共和国 (Zhōnghuá Rénmín Gònghéguó)

People's Republic of China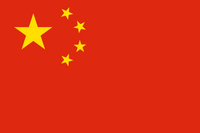 Flag
Anthem: March of the Volunteers(义勇军进行曲)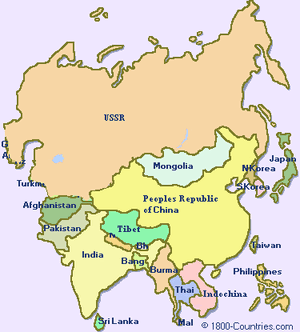 Location
Capital: Beijing
Official Language: Mandarin
Demonym: Chinese
Government: Socialist Republic (Maoist)
Leader: Wang Zhen
Formation:
Area: > 9,500,000 km2
Population: 1,014,387,863(Jan 1990)
GDP: $1,512.85 (Jan 1990)
Currency: Yuan
Timezone: UTC+8
Twist History
Edit
Peoples Republic of China
The Chinese civil war lasted up until 1955 when the Nationalists were finally pushed back the Taiwan. However, in the last five years of the war the Communists suffered heavy losses with the Nationalists resorting to slash and burn tactics a huge famine spreads over much of China for most of 1955 and 1956 killing millions and causing even more to desert the major cities in search of food.
In 1955 at the outbreak of the Korean War, the Peoples Liberation Army and Navy is sent to help the North Koreans. (the events of the war are the same, just 5 years later, the status quo is maintained.)
From 1958 to 1969 Chinese history is the same and the Sino Soviet split is at its peak.
In 1973 during the Korean Crisis, Chinese and North Korean troops capture the Liancourt Rocks from South Korea. This outrages the Japanese government, who dispatch the newly formed Imperial Forces to recapture them. The small North Korean and Chinese force holds onto the rocks for several days during this time they fire missiles at Japan. But before the Communist forces are beaten, China and North Korea order them home after a stabilisation of relations with North Korea.
In response to the missile attacks, Japan funds an internal non governmental espionage froup, The Black Dragon Society to unleash a ten year campaign of economic sabotage against the Chinese economy. The Japanese sign a defensive pact with Taiwan days before the US recognises the PRC as the rightful successor to China. The Chinese attempt revenge attacks against Japan but the efficient Japanese counter espionage agents and mass anti Communist feelings due to the missile attacks makes them a failure.
By 1980 Sino Soviet relations reach an all time low. A second border conflict ensues with the Chinese occupying Zhenbao Island. The Soviet Union in response bombs the base on the island, but does not escalate the situation further.
By 1990 the Invisible War between Japan and China is at its height, the Sino Soviet split threatens to spill over into war and China's economy has suffered badly.
Internal policies in the PRC remain much the same throughout the period. The cultural revolution and support of free markets still happens. However, economic growth is stunted.
Government
Edit
The current President of the People's Republic of China is Wen Jiabao.
The administrative side of the government is handled by the State Council. The state council is subdivided into the following ministries:
| Role | Minister |
| --- | --- |
| Minister of Foreign Affairs | Yang Jiechi |
| Minister of National Defense | Cao Gangchuan |
| Chairman of the State Development and Reform Commission | Ma Kai |
| Minister of Education | Zhou Ji |
| Minister of Science and Technology | Wan Gang |
| State Commission of Science, Technology and Industry for National Defense | Zhang Qingwei |
| State Ethnic Affairs Commission | Li Dezhu |
| Minister of Public Security | Zhou Yongkang |
| Minister of State Security | Geng Huichang |
| Minister of Supervision | Ma Wen |
| Minister of Civil Affairs | Li Xueju |
| Minister of Justice (Supreme People's Procuratorate) | Wu Aiying |
| Minister of Finance | Xie Xuren |
| Minister of Personnel | Yin Weimin |
| Minister of Labor and Social Security | Tian Chengping |
| Minister of Land and Resources | Xu Shaoshi |
| Minister of Construction | Wang Guangtao |
| Minister of Railways | Liu Zhijun |
| Minister of Communications | Li Shenglin |
| Minister of Information Industry | Wang Xudong |
| Minister of Water Resources | Chen Lei |
| Minister of Agriculture | Sun Zhengcai |
| Minister of Commerce | Bo Xilai |
| Minister of Culture | Sun Jiazheng |
| Minister of Health | Chen Zhu |
| State Population and Family Planning Commission | Zhang Weiqing |
| Governor of the People's Bank of China | Zhou Xiaochuan |
| National Audit Office (Auditor General) | Li Jinhua |