Magyar Népköztársaság

Peoples Republic of Hungary
[[Image: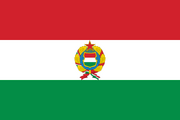 |center|200px|Flag]]
Flag
Anthem: Himnusz
[[Image:

|300px|center|Location]]
Location
Capital: Budapest
Official Language: Hungarian (Magyar)
Demonym: Hungarian
Government: Lenninist
Leader: Gyasi Nkrumah
Formation: April 21st 1954
Area: 93,030 km² km2
Population: 10,041,000
GDP:
Currency: Hungarian Forint
Timezone: CET (UTC+1)

Here is the link to the in-game embassy of the People's Republic of Hungary:
http://z11.invisionfree.com/QPAWN/index.php?showtopic=23411
It includes information on the People's Republic of Hungary, her Communist leader Ferenc Liszt, and links to press conferences, budget and stats, and treaties.
Ad blocker interference detected!
Wikia is a free-to-use site that makes money from advertising. We have a modified experience for viewers using ad blockers

Wikia is not accessible if you've made further modifications. Remove the custom ad blocker rule(s) and the page will load as expected.